Wednesday, December 29, 2004
Shake Down the Thunder
Jack attended his first Notre Dame football game last night at the Insight Bowl. Unfortunately the team has completely fallen apart with the loss of their coach, Tyrone Willingham, and they played like a bunch of 3rd graders. It was fun to go to a football game though – I haven't been to one in years. It was at Bank One Ballpark, and we figured they would have the roof closed because of the rain. No such luck. It was clear when we arrived but started to rain shortly after the military men parachuted on to the field. The roof there does not close quickly, so we got pretty wet before they managed to get the field covered.
I had to feed Jack in the middle of the 2nd quarter, which was slightly challenging. I think I scared the guy next to me. It's so funny how people react. And to be honest I would have been the same way a year ago. But I refuse to go sit in the bathroom to feed the baby – I would have missed too much. And I swear you can't see anything, but my god these guys act like I'm walking around naked or something. It was pretty funny.
I have to say that taking a baby out to things like this is not easy. It certainly disrupts his schedule (no more 5 hours of sleep for me!) and it's difficult to keep him settled in that environment. But it certainly beats the alternative – I just can't sit home all the time.
We also went knitting yesterday at Mama Java's. Gloria came and spent some time holding the little man: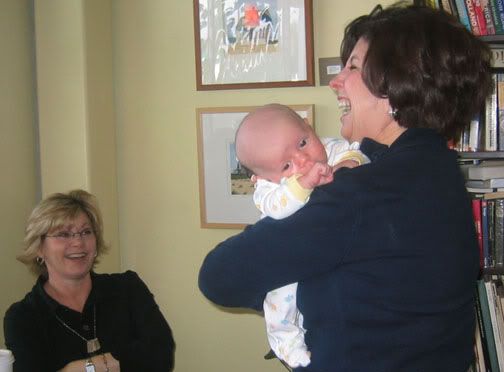 That's my mom's friend Renee in the background. My mom couldn't hold the baby because her other grandchildren got her sick over the holiday. I just called her and she sounds even worse today, which is awful. I know she can hardly stand it that she can't pick him up.
Today we have lunch with my dad and a quick trip up to Jessica Knits. We're both pretty tired from last night, so I think tonight we'll just hang out at home.
Comments:
Hi Brooke! We stumbled on your blog a few weeks ago and have been checking it a lot because our little Zoë was born on Nov. 25th! Our blog's at http://zoeb.blogspot.com/
It's been fun to see Jack growing up! Best wishes!
-- Rosie and Jon
Hi Brooke and Jack!
Oh my goodness, Phoenix is a small town! When I was checking out your blog and Jack's blog this morning I noticed the picture of Renee in background. I've known Renee since 2000 because we would see each other at our friend's Carol stamp store-- Stampotique in Central Phoenix. Too funny. Did you attend Notre Dame?
Take care,
Amy in AZ (your snb knitster friend)
Post a Comment
<< Home