Wednesday, December 08, 2004
Frog Legs
We have an ultrasound picture with Jack's little frog legs sitting right under my rib cage. His favorite thing to do was kick both of them at the same time, which was not very pleasant. Here in real life he's resuming the position from the womb: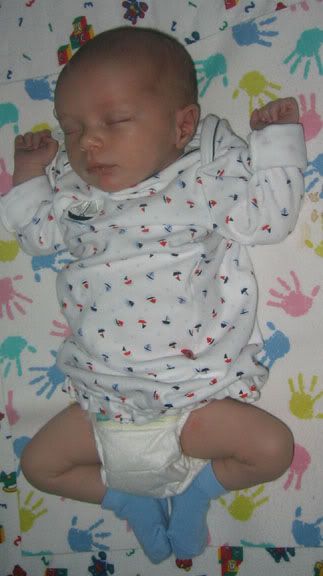 Yesterday we went out for our first restaurant meal with my parents at lunch. We went to the Flat Iron Grill on Indian School. I highly recommend it, although I couldn't eat much because Jack got hungry and I ended up feeding him right at the table! It was a little challenging, but I managed okay. Two of the waiters touched Jack's hands – why do people touch newborn babies? Don't they know about all those horrible germs they carry around? Especially their hands – why couldn't they just touch his foot or something that doesn't go in his mouth? Sheesh.
Here are the happy grandparents and Jack: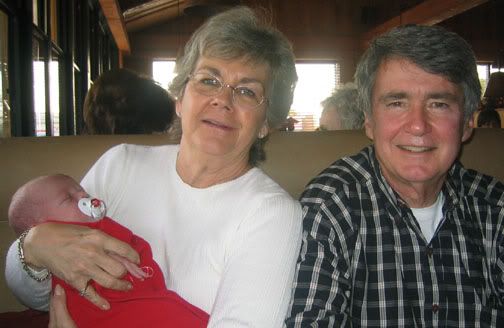 Today's outing is to the lactation consultant. Sounds fun, doesn't it? I'm just happy to have a reason to get out of the house to be honest. I go crazy sitting in here all day.
Gloria went shopping at Baby Gap on Saturday and she bought some of the cutest little going out outfits for Jack. Here's what he wore to lunch yesterday: